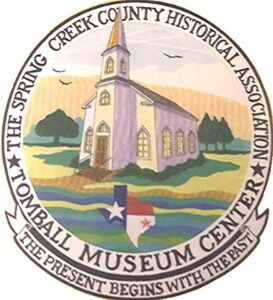 Settlement began in the Tomball area in the early 19th century, where settlers found an open, fertile land that received adequate rainfall—perfect conditions for farming and raising cattle. It was on a land granted in 1838 to William Hurd's heirs. In 1906 the area began to boom. Railroad line engineers often noticed that the Tomball area was on the boundary between the low hills of Texas and the flat coastal plains of the Gulf, making it an ideal location for a train stop. The railroad could load more cargo on each car, because the topography gently sloped toward the Galveston ports and provided an easier downhill coast. Thomas Henry Ball, an attorney for the Trinity and Brazos Valley Railroad, convinced the railroad to run the line right through downtown Tomball. Soon after, people came in droves to this new train stop. Hotels, boarding houses, saloons, and mercantile stores all began to spring up in the area. At first, people called the area Peck, after a chief civil engineer of the railroad line. However, on December 2, 1907, the town was officially named Tom Ball, later to be shortened to one word, for Mr. Ball.
Geophysical prospecting predicted the discovery of the Tomball Oil Field before the discovery well was drilled on 27 May 1933. Production was from the Cockfield Formation at a depth of about 5,000 feet (1,500 m). The discovery produced an oil boom with many oil companies subsequently showing interest in the area. By 1935, 2,750,000 barrels of oil had been produced from 200 wells. Humble Oil Company, struck a deal with the town through which they would provide water and natural gas free of charge to the residents in exchange for rights to drill on the land. This agreement lasted until 1988.
Tomball incorporated in 1933. Because of the 1933 incorporation, Houston did not incorporate Tomball's territory into its city limits.